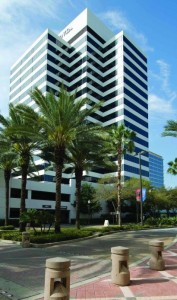 A 1,700 square foot lease with Paradise Marketing has brought Morgan Stanley Tower in downtown St. Petersburg to 100% occupancy.  The 17-story, 190,000 square foot office building was 65% occupied just two years ago when a joint venture consisting of affiliates of Feldman Equities, Tower Realty Partners and Second City Capital Partner acquired the building. Since the purchase and a multimillion dollar renovation the group has executed nearly 70,000 square feet of leases at the building. Notable deals have included Morgan Stanley, Enstar, Capital Resorts and RE/MAX Metro. The Paradise Marketing deal was brokered by Melanie Jackson of Colliers International. Larry Feldman, CEO of Feldman Equities spearheads leasing and redevelopment efforts while Tower Realty Partners handles management responsibilities.
"We've had incredible success in the Downtown St. Petersburg market," commented co-owner Larry Feldman, CEO of Feldman Equities whose company's focus has been on purchasing underperforming assets and increasing value through renovation and building upgrades while using their lower cost basis to implement an aggressively priced leasing program. "Of course one of the most important amenities has been built into the deal – the incredible downtown St. Petersburg location, continued Feldman. "St. Pete has one of the largest urban waterfronts, a truly walkable downtown with 7 museums, over 45 restaurants, a theater for the performing arts, a major league baseball stadium, soccer stadium and nearly a dozen marinas."
This is the second downtown St. Petersburg office building the joint venture has renovated and brought to 100% occupancy.  The nearby, 242,000 square foot City Center office building reached that milestone earlier this year. In a little more than two years following a major renovation, the ownership increased occupancy at City Center from 44% to 100% leased.
A third acquisition, First Central Tower is currently under renovation with over three full floor deals executed since its acquisition just a year ago – including Twinlabs' relocation from New York. Redevelopment plans for First Central Tower include an extensive Gensler designed lobby renovation, upgraded tenant floor elevator lobbies, tenant corridors and restrooms.  In addition, ownership is nearing completion of an amenity package which will include a new concierge desk, a state-of-the-art luxury fitness center and conference center. In keeping with current office space trends towards hip, high-tech spaces, space has also been allocated to a tenant lounge area with a 24/7 "chill zone" with the look and feel of a first class airport lounge. The lounge area will include soft seating, large flat screen TVs, iPad chairs and free WIFI. In addition, renovations will include a completely new modern elevator system, new elevator cabs and an upgrade to the air conditioning system. The parking garage will be upgraded with upgraded lighting, paint and graphics.
Read more in the Tampa Bay Business Journal