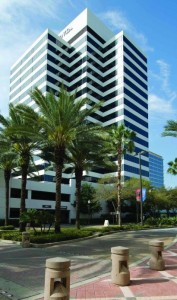 Leasing momentum continues at the newly renamed Morgan Stanley Tower in downtown St. Pete.   RE/MAX Metro has leased 9,218 square feet and will move their corporate headquarters into the Tower in September.   The deal was brokered by RE/MAX Metro's Commercial Division.   The Class A office building formerly known as Wells Fargo Plaza/150 2nd Avenue North was renamed Morgan Stanley Tower after the financial services giant signed a long-term lease earlier this year.
"It was very important for us to continue to maintain a prime downtown location with street level entrance for our consumers," stated RE/MAX Metro President and Owner, Rick Brown. "The location in the Morgan Stanley Building, across from Sundial, in what will be the most prestigious financial center in downtown St. Petersburg was the perfect fit for our 75 agents and Luxelist (luxury) Division."  RE/MAX Metro corporate headquarters has been located across the street from Morgan Stanley Tower for nearly 13 years.   The company which handles all types of real estate services, including residential, luxury, bank-owned, property management and commercial properties has additional offices in Treasure Island, Tierra Verde and Gulfport.
The 17-story, 187,000 square foot office building was purchased in August of last year by a joint venture consisting of affiliates of Feldman Equities, Tower Realty Partners and Second City Capital Partners. "We purchased the building soon after Wells Fargo Bank vacated 22,000 square feet," said co-owner Larry Feldman, CEO of Feldman Equities who spearheads leasing for the building.  "In less than a year we have leased 42,282 square feet. This acquisition gave us the opportunity to do what we do best – renovating and upgrading office buildings in order to maximize their value."  A multi-million dollar renovation will begin later this year. Morgan Stanley Tower is one of downtown St. Petersburg's best-located, premier Class A office buildings with water views of Tampa Bay and a premium downtown location across from the new Sundial Shops (formerly BayWalk).  The group also owns the nearby, 242,000 square foot City Center office building.
Over the last 20 years, Feldman Equities and Tower Realty Partners have successfully joint ventured on the acquisition of millions of square feet of underperforming office buildings. Most recently the joint venture has partnered on City Center in downtown St Petersburg, Wells Fargo Center in downtown Tampa and Fountain Square II in Tampa's Westshore Business District.